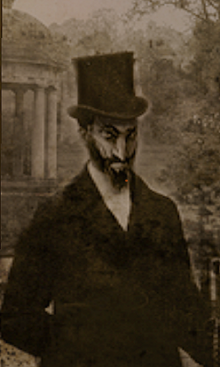 Count Otto Keisinger (in early art Otto Kiesinger) is one of the main antagonists and an old enemy of Patrick Galloway.
Otto had accused Patrick of Gwendolyn's murder after which Patrick was expelled from Ireland. Some time ago, Otto disappeared; he then reemerged in Europe, having proved a serious Austrian occultist.
Otto had been invited by Bethany to the mansion to investigate The Undying Curse of the Covenant Family. Soon they became lovers. Actually, he didn't try to help anybody and enjoyed the withering of the Covenant Family. There is also a strong probability that Otto had helped Bethany to kill Aaron.
In the beginning of his stay at the mansion, Otto studied The Island of Standing Stones in the hope of becoming an even more powerful magician. But he soon found the portal to the Country of Lost Dreams in other reality - Oneiros, being at the mansion's tower top.
Staying in Oneiros, Otto gained even more knowledge and eventually had occupied this country. Keisinger had established a cruel tyranny over it's inhabitants when he learned about Patrick's arrival at The Covenant Estate.
Patrick confronts Otto Keisinger at the top of the Ziggurat in Oneiros, and then causes Otto to fall into the fire below.